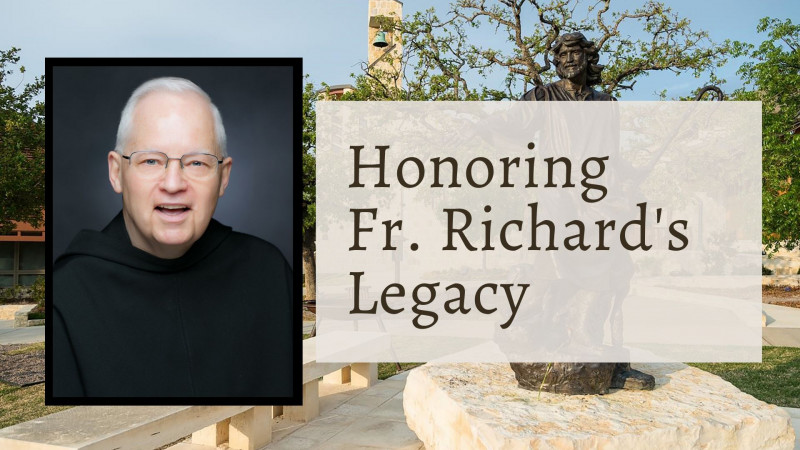 A Message from Father Ronald
I want to offer condolences to each and every one of you on the passing of Father Richard.
After Father Richard's Funeral Mass, I wrote to our staff: "In the name of Father Richard I thank you for your prayers, your tears and your willingness to help my people to grieve with hope. In my name and that of the whole parish family of Good Shepherd, I stand in awe of your loving service at the Wake/Vigil Service and Funeral Liturgy of Father Richard. Last Sunday I said that 'it takes a whole parish to bury its pastor,' and you showed us how to do that flawlessly, with respect, beauty and love."
In the name of the Friars, I extend my sincere condolences, for many of you lost not only a pastor but a friend.
Please forgive me if I sound insensitive or mercenary – Many people asked to establish scholarships or artwork in memory of Father Richard. I asked them not to do that. On Christmas Day in the hospital, two of the cards Father Richard received each had $50 inside. For the first gift, I asked if he would like it to go toward the Franciscan TOR retirement fund. He agreed. For the second, I asked if this would be the same, but he signaled no. Since he could not speak due to the tracheotomy, he mouthed: Land Acquisition. He was in the hospital for three months, and his concern was the parish debt.
Over the past four years or so, Father Richard had been working with our parish staff on a plan to be more fully engaged in the New Evangelization. You will be familiar with the words we have been focusing on as a parish: welcome, encounter, grow, serve, and share. Father Richard really hungered for us to get strong in the Lord so that we could reach out in Christ. As Father Richard was implementing that goal, the three properties on the right as you exit the parish campus were suddenly available for sale. He struggled with having to borrow money to make the purchase and concluded that, as a land-locked parish, that was our final adjacent property for expansion. With the permission and encouragement of the Diocese, the parish borrowed 1.5 million dollars. Our current debt is 1.3 million. If that debt lingers, we will have to begin using funds which now are directed for other programming.
I ask you to please remember Father Richard at this time not by physical memorials but by paying off this debt. When Father Richard passed, he had $83 in his wallet and probably $2000 in his checking account. That's all he had. Our Minister Provincial, Father Joe Lehman, has granted permission for those monies to initiate the "Father Richard Memorial Fund" that will be directed toward the land acquisition debt. Please, let's do this. Let's remember him the way he wanted.
- Father Ronald
Checks can be made payable to Good Shepherd Catholic Community with "Father Richard Memorial Fund" in the memo line.