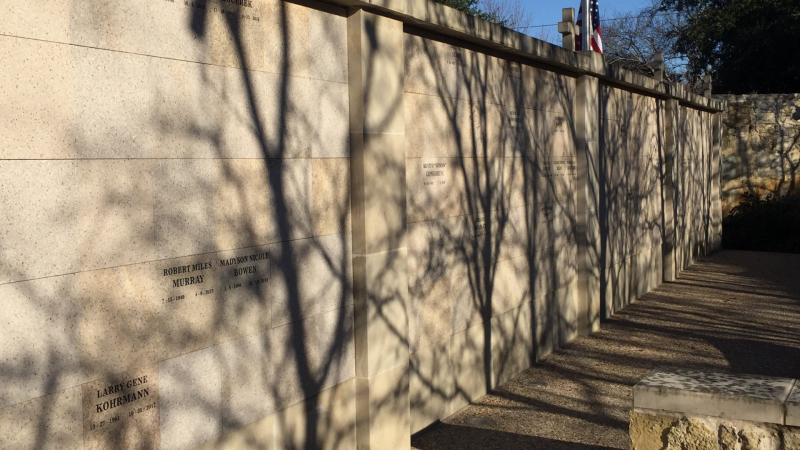 But the souls of the just are in the hand of God, and no torment shall touch them. They seemed , in the view of the foolish, to be dead; and their passing away was thought an affliction and their going forth from us, utter destruction. But they are in peace. For if before men, indeed, they be punished, yet is their hope full of immortality; Chastised a little, they shall be greatly blessed, because God tried them and found them worthy of himself. Wisdom 3:1-5
Hours of Operation: 8:00am - 8:00pm
Click here to visit the United States Conference of Catholic Bishops website regarding cremation and the Order of Christian Funerals.
Columbarium Information
Eligibility to Purchase a Niche
Any registered member of Good Shepherd Catholic Community, and his or her spouse (including non-Catholic spouses)
The member's children, their children's spouses, their children's children and the parents of the member and their spouses
What does a Colubarium Niche cost?
Currently, $3000, which includes:

A niche which can entomb the two included urns
An ID registration tag for each urn
Engraving the face plate with the name of the entombed
Opening and closing the niche at entombment

Purchase price is exclusive of funeral home expenses.
I am interested in purchasing a niche. What do I do next?
Print a non-binding

GSCC Columbarium Letter of Intent to Purchase
Submit to the Parish Office
The Columbarium Committee will provide a set of documents for review. If, after reviewing, you still wish to purchase a niche, contact the Parish Office to set an appointment to execute the Purchase Agreement and select a niche.
About our Columbarium Niche
Each stainless steel niche holds 2 urns
Each stainless steel niche is

11.125 Wide
10.75 High
11.125 Deep

Subsequent phases will add an additional 450 niches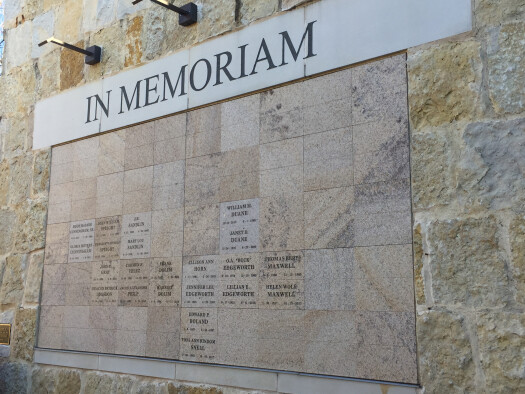 The "In Memoriam" wall at the entrance to the Marian Garden and Columbarium offers GSCC parishioners a way to memorialize a member of their family buried or entombed elsewhere, bringing them into the sacred space of the GSCC Sanctuary and Columbarium - The Communion of Saints.
Four honorees will be inscribed on each of the fifty granite faceplates in the Memorial Wall. The price to memorialize one honoree is $300.
If interested, please submit the following Letter of Intent to the Parish Office. A Columbarium Committee member will then contact you to set an appointment to purchase a memorial.