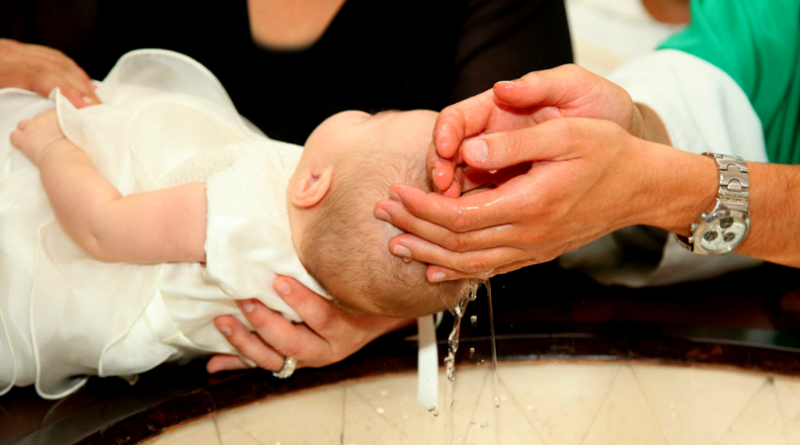 INFANT BAPTISM IS CELEBRATED FOR CHILDREN FROM BIRTH - AGE 7
For baptism of children over the age of 7 years please contact the parish office at 817-421-1387.
PARENTS
Parents should understand that presenting their child for Baptism is a promise to faithfully raise their child in the Catholic faith, and to be an example of Christian living for their child.
In order to celebrate your child's baptism at Good Shepherd Catholic Community, the following requirements must be met:
1. The parents who are Catholic are expected to be practicing Catholics. This means being registered in a parish, giving of their time, talent, and treasure in support of their parish.
2. Parents are to read and complete The Baptism Packet which contains an "Initial Information Form for Infant Baptism", and provide a copy of the birth certificate of their child, the godparent information, and the completed Baptism Information Sheet to the Good Shepherd Parish Office.
3. Parents must attend a Baptism Preparation class within 2 years prior to this baptism. Expectant parents are encouraged to attend the Baptism Class before the birth of their child. Baptism Classes are held once a month on Saturdays from 9:30 a.m. – 12 noon at the parish. When you arrive, check in at the Parish Office Reception desk for classroom assignment.
click here to register for the pre-baptism class
The baptism class is also offered at neighboring parishes. If you attend there, submit verification of attendance with your Baptism packet.
4. Parents must reside in Good Shepherd Catholic Community boundaries, or be registered in Good Shepherd Catholic Community. Click here to register for the parish online.
5. Parents who do not reside in GSCC Parish boundaries, or are not registered at GSCC must provide verification of registration in another parish signed by the Pastor of that parish with church seal, and returned by the Pastor to GSCC prior to scheduling a Baptism. Their Pastor must also give permission for the Baptism to be celebrated at GSCC.
Your child, up to 1 year of age, is welcome to attend the class with you. Childcare is offered during these classes for children age 1 year and up. Register for child care no later than 1 week prior to the class.
You will receive your Baptism Packet in your confirmation email after you have registered for a class. Please return the completed packet to the parish office via USPS mail, email, or bring it to the office.
Upon review of the completed packet (packet must have all documents before turning in), you will be contacted for your preference of dates and Mass times for the celebration of the sacrament. Baptisms of children birth – age 7 are celebrated within the weekend Masses at 5pm Saturday, 9am and 11am on Sunday, and at 4pm on Sunday. There are up to 8 baptisms per month. Good Shepherd also offers group Baptisms. Group Baptisms will be the third Sunday of the month at 1:00pm. There is a maximum of five families per each group Baptism.
While preparing for the baptism of your child into the Catholic Church you may also ask yourself, "Is my marriage a Sacrament in the Catholic Church?" To help you answer that question, please read this article by our pastor.
You may also be interested in reading these articles: Full Communion with the Catholic Church and Parents and Godparents of the Sacrament of Baptism.
GODPARENTS
In order to serve as a Godparent(s), the following requirements must be met:
1. Godparents are Catholics in good standing who are registered in a parish, attend Mass, and are giving of their time, talent, and treasure to their parish.
2. A Godparent MUST be a confirmed Catholic and practicing their Catholic faith. If the person is a non-Catholic, they are a Christian Witness. A Christian Witness is not required to attend a Baptism Class or provide verifications.
3. One Godparent is required, but you may have two. If there are two Catholic godparents, they must be one male and one female.
4. Godparents(s) are to be at least 16 years old and confirmed, and not cohabitating.
5. Married Godparents must be in a valid Catholic marriage, that is, married by a priest or deacon in the Catholic church, or have had the marriage validated, or had a dispensation from the local Bishop to be married in the church of another faith tradition.
6. Godparents are required to attend a Baptism Preparation Session, either at Good Shepherd Catholic Community or in their own parish, or a neighboring parish as provided in that Diocese, if other than the Diocese of Fort Worth.
click here to register for the pre-baptism class
7. Godparents are to complete a "Godparent Certificate", which must be signed by the Pastor of their home parish with the church seal, and returned to our Parish Office before a Baptism will be scheduled.
Godmother certificate or Godfather certificate
You may be interested in reading these articles: Full Communion with the Catholic Church and Parents and Godparents of the Sacrament of Baptism