FIRST COMMUNION & RECONCILIATION PREPARATION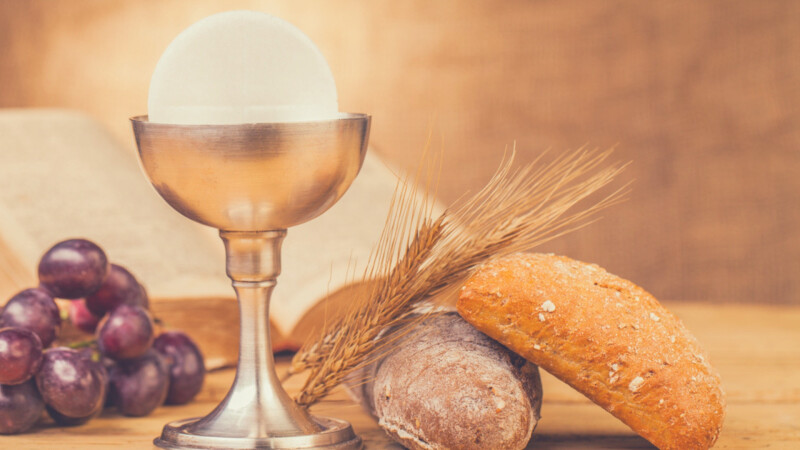 When is my child ready to receive these sacraments? How do I participate in preparing my child? Attendance at workshops for Parent and Child are required for children in grades 2 and above who are baptized and enrolled in Lifelong Faith Formation classes* and have regularly participated for two years. If your child was baptized in a church other than the Roman Catholic Church you will need to make an appointment by calling the parish office (817-421-1387) for him/her to make a Profession of Faith in the Catholic Church BEFORE you receive Reconciliation or schedule the 1st Communion.
Click here to read Sacraments of Initiation and Pastoral Concerns.
If you are planning to have your child make his/her First Communion in Second Grade please note the following:
In order to receive First Reconciliation and First Communion children are required to be currently enrolled in Lifelong Faith Formation. They must have had 2 consecutive years, not including Kindergarten, of faithful attendance (defined as not missing more than 5 classes total in one year) in the *Lifelong Faith Formation program, be enrolled in Catholic School or turn in completed curriculum material for the Home Study program. Therefore it is essential that your child has good attendance during his/her 1st year in Lifelong Faith Formation in order to be a part of the sacramental preparation in the 2nd year! If there are attendance problems in the 1st year of Lifelong Faith Formation, it may postpone your child's eligibility to prepare and receive 1st Communion until 3rd year of Family Faith Formation or later.
SACRAMENTAL PREPARATION CHECK LIST
Faithful attendance in Lifelong Faith Formation program or other programs as stated above. If the 1st

year of faith formation was not at Good Shepherd, bring the attendance record from that other program on letterhead or official email with contact information from that parish office.
Parents AND children must attend one Reconciliation Workshop and one Communion Workshop.
Bring a copy of your child's Baptismal Certificate to the first workshop you attend.
THINGS TO BRING TO THE FIRST WORKSHOP
Baptism certificate with the full contact information of that church, if it is not Good Shepherd
Proof of 1st year of attendance at a faith formation program on letterhead or official email, if it was at a church other than Good Shepherd.
ALL
OF THE ABOVE REQUIREMENTS MUST BE MET BEFORE YOU CALL THE OFFICE TO SCHEDULE THE CELEBRATION OF YOUR CHILD'S FIRST COMMUNION.
When your child has completed sacrament preparation they can celebrate their their First Reconciliation on any Monday morning (9:00 - 10:00am), Wednesday evening (6:00 - 7:00pm), Thursday evening (7:00 - 8:00pm), or Saturday afternoon
(3:30pm – 4:30 pm) when our priests hear confessions. The sacrament of First Communion is celebrated as a group.
Click here to see the dates.

Sacrament Preparation Workshops for Reconciliation & First Communion
1st Reconciliation Workshop - child & one parent are required to attend one of the following dates:
October 9, 2021 - 9:00am - noon or 1:00pm - 4:00pm
March 5, 2022 - 9:00am - noon
1st Communion Workshop - child & one parent are required to attend one of the following dates:
October 30, 2021 - 9:00am - noon or 1:00pm - 4:00pm
April 2, 2022 - 9:00am - noon
Workshops include video and crafts for children, history and sacramental information for parents, and a parent/child session that includes practice reception of the Sacrament.
We encourage all our parish families to attend our workshops, however we are aware that we cannot meet everyone's schedule. You may attend a parent/child workshop for either 1st Communion or Reconciliation at St. Michael's church in Bedford if it is more convenient. You would be responsible for contacting them for dates, times, place, and registration. You are also responsible for providing proof of attendance at that workshop to the Good Shepherd Faith Formation office.
Click here to learn more about Gluten Intolerance and Pastoral Care.
When preparing your child for these sacraments of initiation into the Catholic Church you may also ask yourself, "Is my marriage a Sacrament in the Catholic Church?" To help you answer that question, please read this article by our pastor."
We look forward to your participation in a memorable parent and child Sacrament preparation time.
Please note: This page addresses the formation of children who are preparing to celebrate these Sacraments. If you are an adult seeking Reconciliation and/or 1st communion, please contact Fr Ron Mohnickey at or the RCIA page of this web site.