Could you not watch one hour with me?
---
NEW Holy Hours of Adoration begin on Ash Wednesday.
Mondays 9:00am - 5:00pm

Tuesdays 9:00am - 5:00pm

Wednesdays 9:00am-8:30pm

Thursday 9:00am-8:30pm

Friday 9:00am -12:00pm

Saturday 9:00am-12:00pm

Sunday 5:30-8:30pm
Sign Ups for NEW Holy Hours of Adoration
Please remember to sign up for all 6 holy hours - please sign up for all holy hours on the same day and time - for the 6 weeks of Lent:
So Mondays go from Feb. 27 to April 3rd,
Tuesdays from Feb. 28 to April 4th, and
Thursdays from Feb, 23rd to March 30th.
If you are traveling for one of the holy hours, please try to find a sub or confirm that your prayer partner will be there. The commitment is for the 6 weeks of Lent, but the hope is that you will continue after Lent as well.
If you wish to Sign up for a Regular (already Established Holy Hour) - even just for the 6 weeks of Lent, please click here to get started
Regular hours for exposition and adoration of the blessed sacrament
Mornings
9:00AM to Noon - Mondays through Saturdays
Afternoons
Noon to 5:30PM - Wednesdays
Evenings
5:30 to 8:30PM - Wednesdays, Thursdays, and Sundays

During these hours, Eucharistic Adoration will only be accessible through the Daily Chapel glass door entrance (near the bell tower) and greeters will be available to assist during Evening Adoration hours.
Helpful Resources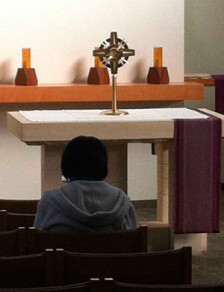 Please consider becoming a scheduled adorer. This means committing to spending a particular hour each week in prayer and adoration of Our Lord. While this commitment is necessary in order to have hours of Exposition of the Blessed Sacrament, it also facilitates the keeping of good intentions. So many blessings come!
Interested in becoming an Eucharistic Adorer? Click here to get started!
Do you have questions about this ministry? Click on a name below to contact us.

Ministry Lead: Maria Upperman
Staff Contact: Sr. Michelle Nguyen, CMR, 817-421-1387