Daily, from 06/21/2021 to 06/25/2021
,
8:30 AM - 2:00 PM
Location: Parish Hall Center, 1000 Tinker Road, Colleyville, TX US 76034
Room: Parish Hall
Each summer Good Shepherd participates in the GRACE Feed Our Kids program by preparing and delivering sack lunches to kids in Grapevine who may not otherwise be eating lunch. Good Shepherd will be sponsoring two Feed Our Kids locations this summer from Monday, June 21 through Friday, June 25, feeding between 120 and 160 kids each day.
We are in need of many volunteers each day to prepare lunches at Good Shepherd for the GRACE locations. This is a great volunteer opportunity for adults and children over 12 years old who need service hours.
Registration for this event is full!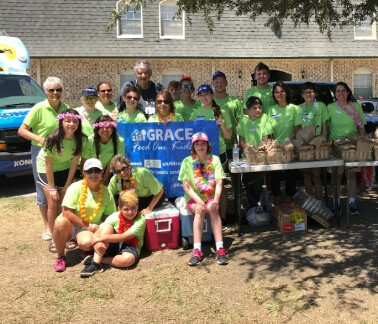 Safe Environment Training
All volunteers will need to be up-to-date on their Safe Environment Training (SET).
Below is a link to the Safe Environment website where you can complete the Volunteer Ministry Application and sign up for a class.
Click here to sign up for a Safe Environment Class.
Questions: Please contact Good Shepherd Outreach Coordinator Ray Matteson