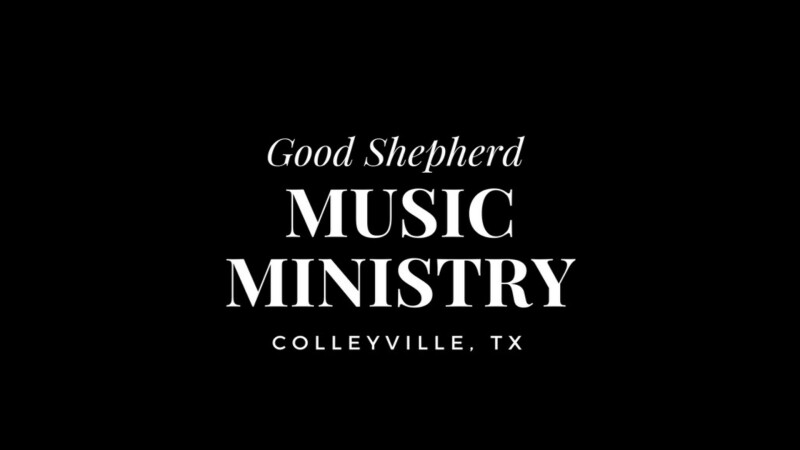 MUSIC MINISTRIES AT GOOD SHEPHERD
The Music Ministries of Good Shepherd Catholic Community is an important part of the Eucharistic Celebration. Many volunteers share of their time and talent to prepare, lead, and enhance the liturgical celebrations of our community. Outside of the normal weekend Mass schedule, pastoral musicians are also involved in Holy Day Masses, Weddings, and Funerals.
WHAT TO EXPECT AT WEEKEND MASSES
Vigil Mass, Saturday, 5:00pm: Schola Cantorum (an advanced Mixed Choir)
Sunday, 9:00am Mass: Parish Choir
Sunday, 11:00am Mass: Parish Choir
Sunday, 4:00pm Mass: Modern Worship Band
MUSIC MINISTRY CREED
We, the members of the Good Shepherd Music Ministry, recognize our call to be pastoral musicians.
We recognize that the beauty of our celebrations is enhanced in song and want to use our gifts and talents to give praise to God our Father, each in our own measure.
Our main function is to lead the congregation in prayer. The psalmist says, "Sing joyfully to the Lord, all you lands; break into song, sing praise." We promise to be faithful to practice and prayer, so that we may prayerfully execute each song.
We do not see our roles as one of performers; but instead we stimulate, reinforce, and sustain the congregation's singing and participation.
We ask the Lord's blessing on our music ministry that the words we sing and the notes we play may transform the lives and hearts of all present and draw us closer to Jesus Christ our Lord.
We ask this through Christ our Lord. Amen
GOOD SHEPHERD CATHOLIC COMMUNITY CHOIRS AND ENSEMBLES
Handbell Choir
Handbell Choir
The ensemble ministers for various liturgies. The ensemble rehearses on Wednesdays in the Church from 6:00-8:00pm.
Want to learn more? Interested in joining this ministry?
Instrumentalists
Modern Worship Band
Parish Choir
The Parish Choir sings at the 9:00am and 11:00am Sunday Masses, respectively, and comprised of singers and instrumentalists. The choir welcome members of all ages—high school age through adults. The repertoire encompasses all styles of music, from chant and Renaissance motets to twentieth century anthems, sung a cappella or with piano or organ accompaniment. They rehearse Wednesday evenings in St. Cecilia Music Hall from 7:30 to 9:00pm and one-half hour prior to each Mass.
Youth Choir
If you have a child/teenager who loves to sing and would like to gain more confidence singing with a group or alone, this choir offers the opportunity for your singer to grow their voice as well as their faith!

The Youth Choir rehearses weekly and leads the music for Mass once a month. They also sing for special liturgical celebrations and concerts with the adult choir a couple of times each year.
Grades 3-12, Sunday afternoons 1:30 - 2:30 p.m. First social/rehearsal will be Sunday, August 21 from 12:30 - 2:30 p.m.
Youth Orchestra
Good Shepherd Youth Orchestra Information 2021-2022
Good Shepherd Youth Orchestra begins its 13th season this year. It consists of students from grades 7-12. Most of our members belong to our parish but that is not a requirement. Our season runs from October through May 31.
We rehearse on Sundays from 12:30-2:00pm and play at a Parish Mass once a month.
Our Special events include: The Parish Christmas Concert in December, two outreach concerts at nursing facilities, Christmas Eve Mass, Stations of the Cross in Lent and Easter Sunday Mass.
To join, a student must be in a school band program. There is no audition at this time.
If you decide to join the Youth Orchestra, we ask you to please make a commitment to attend rehearsals and masses/performances at least 90% of the time. Attendance is very important!!
Want to learn more? Interested in joining this ministry?