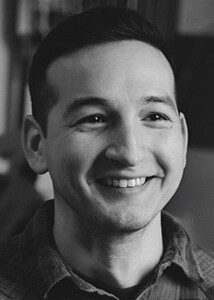 Nic Gutierrez
Director of Faith Formation
Hey friends, my name is Nic Gutierrez! I'm originally from Arlington, Texas but I now reside in Grapevine with my wife Emily and our three kids. I consider myself pretty well versed in a lot of different things and we probably have at least one thing in common. So, come by my office and let's be friends! Here are a few things about me…
I play a mean game of poker (seriously), I'm a woodworker, I'm a drummer for a country band (we play around DFW), I was on Team Texas for the High School National Gymnastics Championships in 2008, I've torn a total of five ligaments in my knees, I was present in St. Peter's square for the election of Pope Francis in 2013, and I'm a professional YouTube watcher. With all that said, my true passion is to work with a Parish family and provoke the spiritually dormant in our community and champion discipleship relationships through Jesus and the Church.
I grew up in the Catholic Church, never missed Mass and always prayed before meals. At first blush it might sound like I was a pure and holy kid, but the fact was I didn't know basic truths about God. The blame was probably a mixture of my poor disposition towards Sunday CCD classes, my parents trying their best, and my Parish trying their best. Ultimately my religious activity was a mere faith by superstition. I looked at God and the Church simply as an entity that promoted the production of good people which left me thinking "I'm a good person. I come from a good family. Why do I need a God?" Unfortunately, throughout the entirety of my upbringing I had failed to understand the most important thing - God didn't want me to be a good person. He wanted to raise me from the dead. He wanted a relationship with me.
I didn't understand this until I was 19 years old when I decided to serve with a Catholic ministry called the National Evangelization Teams (NET) based in St. Paul, Minnesota. There I went through spiritual formation, catechetical formation, and ministry training. I was selected to be on a retreat team my first year and we traveled all over the country and executed 108 retreats for 6th-12th grade students. For my second year as a missionary, NET assigned me to a discipleship focused team where we remained at one parish the entire year. This was the year I was formally exposed to Parish ministry and began to see the need for renewal in the Church beginning within the Parish.
After my years with NET I decided to pursue work in Parish ministry and remained in the Twin Cities to earn a B.A. in Catholic Studies and a B.A. in Theology from the University of St. Thomas, along with a brief stint at the Pontifical University of St. Thomas (Angelicum) in Rome, Italy. Upon graduating, I started my first job at St. Francis of Assisi (Grapevine) as the Coordinator of Music & Middle School Ministry and remained there for three years. God then called me to return to my home Parish where I worked four years at St. Vincent de Paul (Arlington) as their Director of Youth Evangelization & Discipleship. After that I had a brief stint at Prince of Peace in Plano working as the Coordinator of Marriage & Family Life.
I'm proud to call myself a member of the Good Shepherd family, and I'm equally as proud to be the Director of Faith Formation here at the Parish. I promise I don't have everything figured out and I'll never claim to be the supreme model, but I do know our Lord very well. I'm here for you and can help you, your marriage, or your family have lifelong relationships with Jesus. Please come make yourself known. I'd love to meet you! Pax!